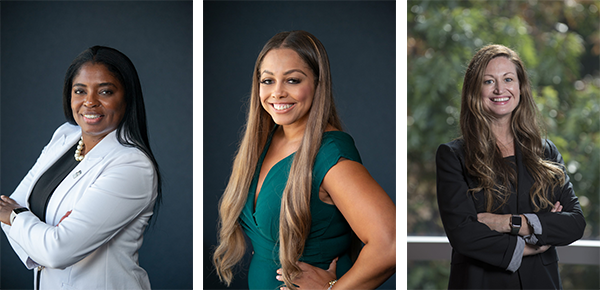 19 Apr

Three Neubauer Fellows Among Seven Philly Principals Honored with the Lindback Award for Distinguished Principal Leadership

Neubauer Fellows Kahlila Johnson (2022 Cohort), Principal of Overbrook High School; Amanda Jones (2022 Cohort), Principal of the Honorable Luis Muñoz Marín Elementary School; and Heather Mull Miller (2020 Cohort), Principal of William H. Hunter Elementary School have been named among the seven 2023 Lindback Award for Distinguished Principal Leadership winners.

Honorees received the award in an April 18 ceremony at the Philadelphia Film Center—the first in-person event in three years because of social distancing guidelines in place during the pandemic.

"Our seven honorees are extraordinary leaders who have demonstrated their commitment to partnering with students, staff, families, and communities, and improving the opportunities and outcomes for the students that they serve," said ShaVon Savage (2019 Neubauer Fellow), SDP Deputy Superintendent of Academic Services and emcee of the event.

Supported by the Christian R. and Mary F. Lindback Foundation, the distinguished award honors School District of Philadelphia (SDP) principals who are models of educational leadership for teachers, school staff members, parents, and students and demonstrate a commendable level of public service.

Lindback Principal Award winners receive a $20,000 stipend to be used to benefit the recipient's school communities.

"It is an honor and pleasure to be here to recognize and celebrate seven distinguished principals and absolute heroes and heroines in Philadelphia," said Tony B. Watlington, Sr., EdD, SDP Superintendent. "Thank you for being possessed of tenacity, thank you for all the incredible work that you do for all the young people of Philadelphia. It is because of you that our future is bright."

"A dedicated principal is a force of nature," said Mayor Jim Kenney. "I'm always inspired by their leadership and impact on the lives of the people around them. … Principals are the backbone of our school communities."

One of the Lindback Principal Award winners, Crystal M. Edwards, EdD, Principal of William D. Kelley School, spoke on behalf of all seven recipients.

"As recipients of tonight's Lindback Award for 2023, we acknowledge that you see us, and for that we are humbled and thankful," said Edwards. "Walking away with our awards will compel us to amplify that the work that we are doing is heightening our impact for the communities in which we serve. We are in gratitude, and we are thankful for this high honor."

Kahlila Johnson, EdD
Johnson—a 1989 graduate of Overbrook High School—has served as its principal since 2019; she has been an educator since 1993. Prior to becoming the principal of Overbrook High School, Johnson was the founding principal at Philadelphia Learning Academy—North; she also served as principal at William L. Sayre High School (2010-2012).

Shakae Dupre (2017 Neubauer Fellow), Principal of Middle Years Alternative School, introduced Johnson, explaining Johnson was Dupre's first principal as a teacher more than 17 years ago.

"Dr. Johnson's outstanding leadership and dedication to her school community is bar none, and indicative of why she's here today," said Dupre. "Her courageous management has helped her achieve tremendous success as a leader. She has shown commitment toward creating a positive and inclusive learning environment for all of her students, and she has consistently gone above and beyond to ensure that her school continues to grow and thrive. She is a visionary leader who has brought about significant changes and improvements to her school environment. She has been instrumental in implementing innovative initiatives and programs that have enabled her students to excel academically and personally. She has also fostered a culture of collaboration, communication, and respect among her staff, which has enhanced the learning experience of the students of Overbrook High School. … Dr. Johnson has been a role model for all of us. She has demonstrated exceptional leadership qualities such as integrity, accountability, and empathy. She does not apologize for doing right by kids, so you better get in line or you will be left behind."

Johnson, who believes "access to literature and a library is an essential source of knowledge for young minds and schools," will use the award money to refurbish the Overbrook library, purchasing books and furniture and beautifying the space.

"If you ask any principal, we all know that we are in the business of servicing others and saving lives," said Johnson. "The award means I, as a leader, am on the right track."

Amanda Jones
Jones has served as the principal of the Honorable Luis Muñoz Marín Elementary School since 2020 and has been an educator since 2015. Prior to becoming a principal, Jones served as a first-grade teacher, third-grade teacher, Catapult learning site supervisor, reading intervention coach for grades K-3, and assistant principal.

Ariel Lajara (2019 Neubauer Fellow), SDP Assistant Superintendent, introduced Jones, acknowledging that he first met Jones at a site selection meeting. Jones had started at Marín as a teacher, but left to work at another school and was hoping to return to Marín. Lajara was Marín principal at the time.

"I saw something in her that at the time I don't know that she saw in herself," said Lajara. "Good teachers know good teachers. Leaders can see the potential in all.

"Amanda's passion for delivering a high-quality education to her students was evident since day one," said Lajara. "I have always been impressed by the capacity and in-depth knowledge she possesses, the pedagogical approaches, and instructional practices. Amanda goes above and beyond expectations to ensure that her students are not just seen, but also heard. Diversity, equity, and inclusion is at her core as she strives to educate the whole child, mentally, physically, and socially. No matter what obstacles are thrown her way, Amanda does not waver. … Amanda consistently aims to be a leader that expands thinking and deepens understanding. Nothing is more important to her than being a changemaker for all the stakeholders in and around her school community. Her advocacy for students, for staff, and for all is second to none. She is on a mission to change the trajectory for every student that comes her way.

"She is committed to advocating for high-quality instruction and providing diverse educational experiences for inner city youth who deserve a straight pathway to success and a competitive education."

Jones will use the award money to beautify the campus so, in her words, "our students can go outside and they can play successfully and they can play safely."

"Winning the Lindback Award means that I have been successful in the work of cultivating a culture of positivity and joy," said Jones. "It's a humbling experience to know that the work that I've been doing has not gone in vain."

Heather Mull Miller
Miller has served as the principal of William H. Hunter Elementary School since 2017 and has been an educator since 2005. Prior to becoming a principal, Miller served as a teacher and School Based Teacher Leader.

Kristin Segro, Instructional Coach at Hunter Elementary, introduced Miller. Segro spoke on behalf of involved Hunter 6th-grader Jamir Hill, who was unable to attend the event, having become a big brother just that morning.

Segro explained that Miller leans into Hunter's mission statement: "William H. Hunter is a safe and supportive school where high expectations and hard work yield excellent academic achievement for all students."

"Each day at Hunter, Heather strives to ensure each student feels welcomed, loved, and supported," said Segro. "She does this by meeting them at the front gates of the school every morning, having brief interactions with them in hallways, recognizing and celebrating student success, no matter how big or small. She doesn't stop with the students, she ensures that all families feel welcomed and plans community wide events to invite parents into our schools to hear their voices on how we can continue to improve. … She strives to ensure that the cultures of the families we serve are represented each day in all that we do. Under Heather's leadership, we continue the cycle of planning, implementing, measuring, and evaluating in order to provide the best instruction for students because their academic achievement is our number one priority."

Relaying Hill's words, Segro continued, "Hunter is the place where he learned to read, write, and do math, but it is also the place where he learned to create art, to be respectful and responsible, safe and kind. … Just like we say in our morning announcements every day, we matter everywhere, and we belong at Hunter."

Miller will use the award money to build communities of belonging. "When we came back [to in-person learning from the pandemic], we were specific around building communities of belonging and creating opportunities for all stakeholders—students, teachers, staff, community members—to engage in our community," said Miller. "This award will be a resource to be intentional in our idea of building communities of belonging.

"I am honored, I am humbled, I am motivated. Thank you."

See a video from the Lindback Awards ceremony highlighting the award recipients—and what winning the award means to them—here.