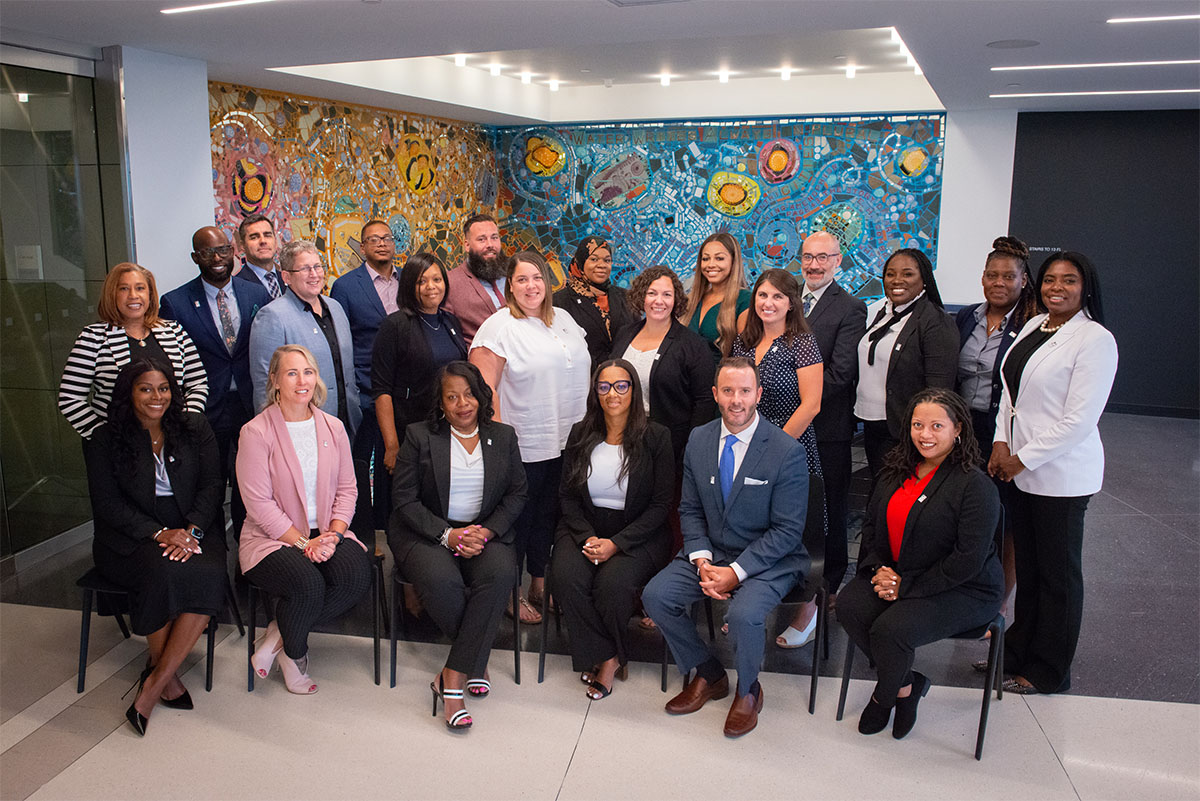 05 May

Introducing the 2022 Neubauer Fellows in Educational Leadership

The Philadelphia Academy of School Leaders proudly announces the twenty-two (22) Philadelphia principals matriculating into the seventh cohort of the Neubauer Fellowship in Educational Leadership. Selected through a rigorous multi-stage process that gathers evidence of selection criteria, this group of dynamic school leaders represents 1 faith-based, 3 charter, and 18 district schools and contributes a combined 122 years of principal experience to the greater Neubauer Fellowship network. This cohort also reflects the growing diversity of Philadelphia, with 63% people of color and 71% women.

This summer, the cohort will commence its two-year transformative leadership experience that will deepen critical skills to elevate school performance and student outcomes. Fellows will share and identify practical solutions to multi-faceted challenges and build deep relationships with a network of outstanding peers who share strategies and problem-solve with one another.

The Neubauer Fellowship supports 150 school and system leaders across seven cohorts in Philadelphia's district, charter, and faith-based school systems. Including our newest cohort, Neubauer Fellows collectively lead 111 district, charter, and faith-based schools in Philadelphia, directly impacting outcomes for nearly 66,000 students. In addition, 27 Neubauer Fellows serve as system-level leaders who supervise, support, or develop Philadelphia principals and indirectly impact an additional 34,000 students.  Together, Neubauer Fellows serve nearly half of Philadelphia's school children.

Join us in celebrating and welcoming the 2022 Neubauer Fellows in Educational Leadership!
KaTiedra Argro, Commodore John Barry Elementary School
Tiffani Joi Blunt, Grover Washington, Jr. Middle School
Andrew Brooking, Thomas G. Morton Elementary School
David Cohen, Tanner G. Duckrey Public School
Nimet Eren, Kensington Health Sciences Academy
Erica M. Green, Russell H. Conwell Middle Magnet School
Dollette Johns-Smith, Morton McMichael School
Kahlila S. Johnson, Overbrook High School
Rodney Johnson, John Moffet Elementary School
Amanda Jones, The Honorable Luis Munoz-Marin Elementary School
Mary Libby, Chester A. Arthur School
David Lon, The Jules E. Mastbaum Area Vocational/Technical School
Tangela McClam, Lewis C. Cassidy Academics Plus School
David McDonough, St. James School
Leigh McLinden, George W. Sharswood Elementary School
Brian Meadows, Thurgood Marshall School
Christie Parfitt, Jay Cooke Elementary School
Nichole Polk, Potter-Thomas School
Heather Scheg, Mastery Charter – Clymer Elementary
Naeemah Seward, Mastery Charter – Hardy Williams High
Wendy Sharpe, Franklin S. Edmonds Elementary School
Shoshana Tyler, Global Leadership Academy Charter School West
As a critical mass of school and system leaders, Neubauer Fellows spark and sustain positive change for our city's students, families, and communities. On average, schools led by Neubauer Fellows improved more than three times as much as other schools in elementary and middle school Math and English Language Arts (ELA) and improved student attendance more than twice as much. In addition, Neubauer Fellows led nine of 12 Philadelphia schools receiving the prestigious National Blue Ribbon distinction in the last six years. Including this new cohort, 37 Neubauer Fellows have been recognized with the respected Lindback Award for Distinguished Principals, now representing 75% of all Lindback award recipients in the last five years.
We look forward to partnering with the talented principals in our 2022 Neubauer Fellowship cohort and building on this solid foundation of success!
See our press release here.