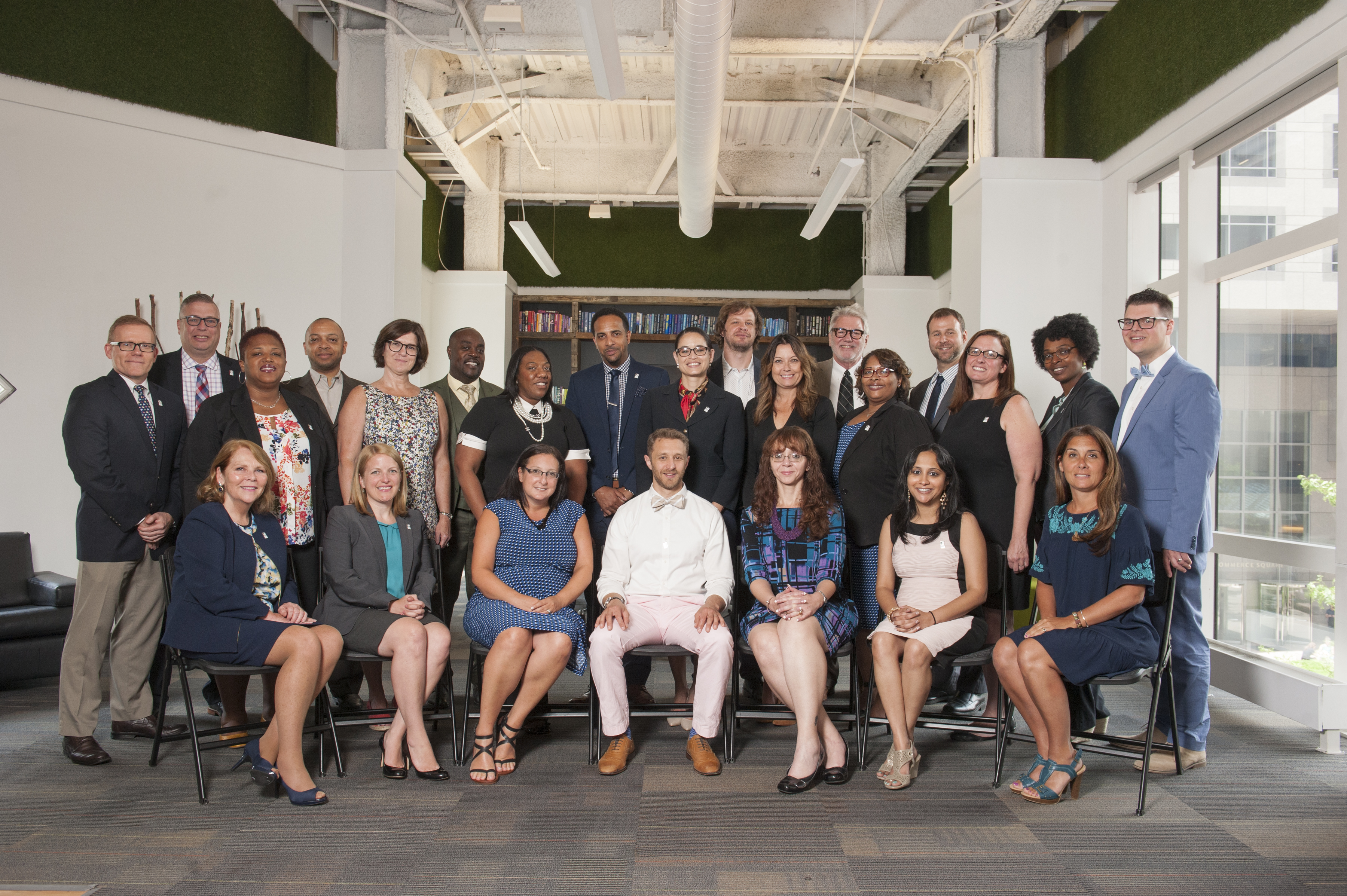 17 Aug

Philadelphia principals experience "life-changing impact" and "reinvigorated career energy" in week of leadership learning

"Knowing very well that there are no great schools without great leaders, the realization of our administration's agenda for our city's schoolchildren will only be possible with transformative leaders like you at the helm of our schools." – Mayor James F. Kenney, Mayor of Philadelphia, in a letter to Neubauer Fellows

On paper, the robust schedule for the 22 Philadelphia principals selected to participate in the Neubauer Fellowship 2017 Summer Institute is similar to many immersion experiences. The schedule lists orientations, dinners, conference meetings, tours, planning sessions, vision discussions, and presentations on topics such as "Leading Change" and "Coaching for Results."

But the cohort attendees, who took seven days out of their already brief summer break to participate in the Institute in July, speak of the "life-changing impact" and "reinvigorated career energy" that reveal just how deep and fulfilling the Institute experience is.

Fellow Stu Warshawer, Principal of Mastery Charter Harrity Upper School, was touched by the session "Vision for Results," led by Shayne Evans and Alex Seeskin, which focused on collaborating with stakeholders to shape and reinforce a vision, inspiring enthusiasm and commitment for the vision, and aligning school culture, plans and structures within the vision.

"I was moved and inspired by 'Vision for Results,' on explicitly defining our mission, values and goals," he said. Warshawer was particularly impacted by the importance of incorporating authenticity into his leadership practice by sharing his personal story of what led him to become a school principl. By sharing what motivates us as educators and the challenges we collectively face, he said, "we create coherence and connection for our staff members."

The two-year Neubauer Fellowship in Educational Leadership provides carefully selected principals with development opportunities that refine and augment their leadership skills to elevate their schools to higher levels of learning. Fellows are also encouraged to share what they've learned and support their peers through their formal and informal networks. The Summer Institute is the first immersion into the Fellowship.

Fellow Shira Woolf Cohen, K-8 principal at New Foundations Charter School, was unable to apply for last year's Fellowship but was grateful to be selected this year.

"The Summer Institute was one of my best experiences as an educator," she said. "It was a group of hard-working people who want to make sure their schools, families and communities are doing well."

"We opened up about our 'problems' in a way we might not have normally, but the (Philadelphia Academy of School Leaders) created a safe space for us. Joe and Jeanette from the Neubauer Family Foundation walked the walk; they were there every day, and had the pats on the back and hugs we needed when we were most vulnerable. They were clear about their expectations and invested in us as people."

In addition to the curriculum being aligned to effective leadership practices within education, the curriculum is infused with faculty from across multiple sectors, including nationally renowned educators and successful leaders from the for-profit and non-profit sectors. Bolstered by a variety of leadership roles, every speaker at the Institute provides frameworks and actionable tools that can enhance the practice of school leadership.

Fellow Karen Thomas, Principal of William W. Bodine High School for International Affairs, valued the human moments of the summer program.

"The most impactful interaction I had was when everyone told their personal story," she said. "The inspiration to help others is so important to the work each of us does every day."

Fellow Jack Nelson, Jr., Principal of Abraham Lincoln High School, was encouraged by a mentor principal to apply for the Fellowship, but wavered as he assessed his busy summer schedule. He now looks at the experience as transformative.

"It was the best seven days, empowering and energizing," he said. "I could look to my right, or look to my left, and see the greatest minds in education. We came from everywhere, all of us as peers forming true brotherhoods and sisterhoods."

Nelson Jr. shares his memory of the closing moments of the summer institute.
"Our [facilitator] for the seven days, Al Bertani (Senior Advisor, University of Chicago Urban Education Institute), was ending the week, and all of us wanted to thank him, tell him we were indebted to him for the motivation. We built a bridge between us that week, and as we were closing, there were tears, people very emotional. It was intense and rewarding and a spiritual journey."

"I was so motivated during the week, I sent 100 emails to my staff to start sharing ideas. All of us at the Institute wanted school to start that day! We are going back to our schools energized and inspired!"

Woolf Cohen echoes Nelson's excitement.

"I look at the pile of books as I am planning, and I have focus on what's important," she said. "Our shared experiences are going to impact me every single day."

The Philadelphia Academy of School Leaders develops and supports effective school leaders who improve outcomes for Philadelphia's children. This important work is made possible by the generous support of the Neubauer Family Foundation.