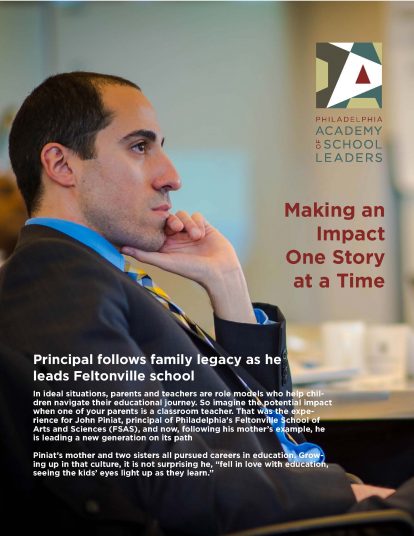 19 Jun

Neubauer Fellow Profile: John Piniat

Principal Makes Impact One Story at a Time: Principal follows family legacy as he leads Feltonville school

In ideal situations, parents and teachers are role models who help children navigate their educational journey. So imagine the potential impact when one of your parents is a classroom teacher. That was the experience for John Piniat, principal of Philadelphia's Feltonville School of Arts and Sciences (FSAS), and now, following his mother's example, he is leading a new generation on its path

Piniat's mother and two sisters all pursued careers in education. Growing up in that culture, it is not surprising he, "fell in love with education, seeing the kids' eyes light up as they learn."

Click here to read the full profile on Feltonville School of Arts and Sciences and Neubauer Fellow John Piniat.