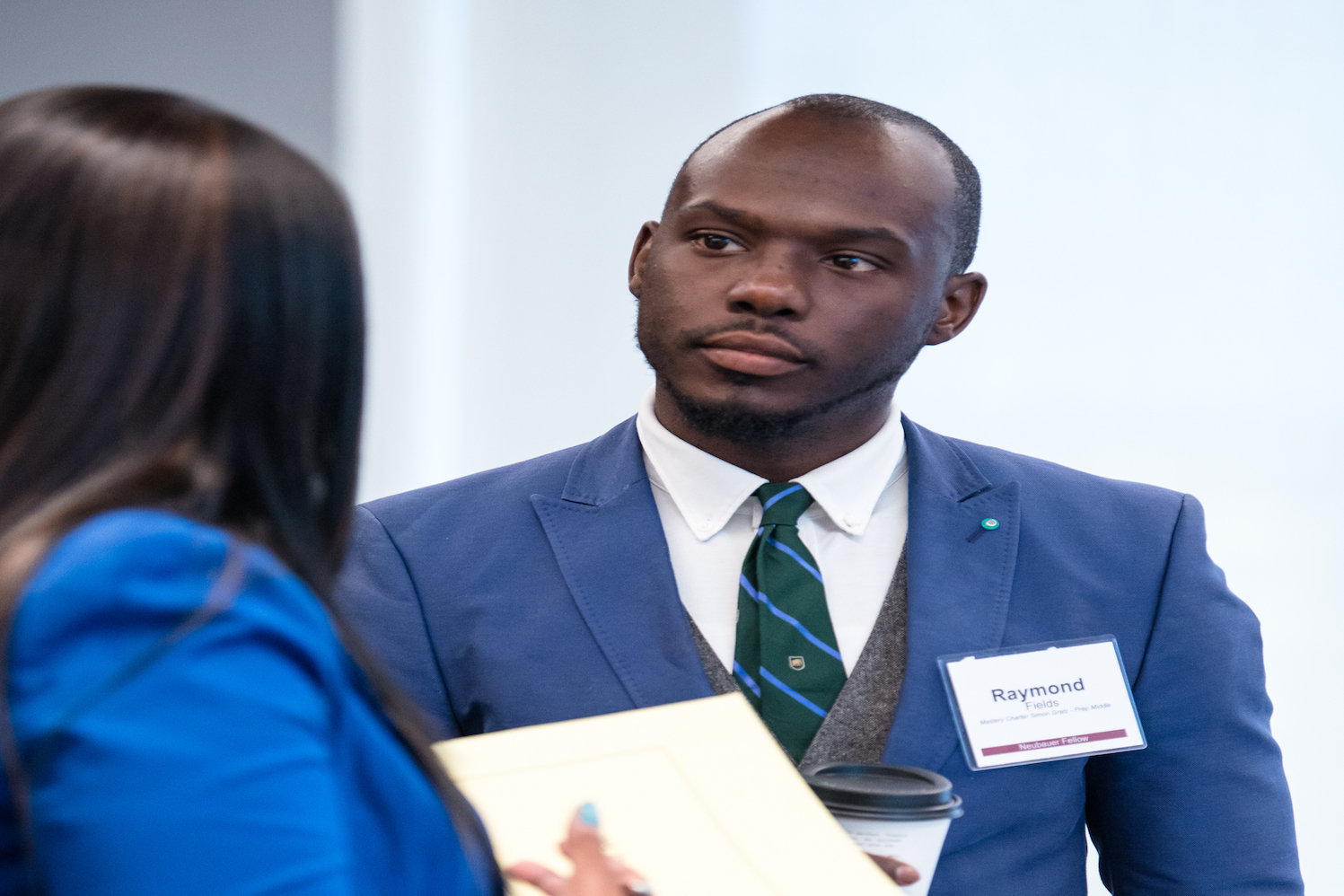 17 Apr

Neubauer Fellows Lead and Exceed on School Progress Reports

The School District of Philadelphia recognized principals, including 16 Neubauer Fellows, whose schools obtained top student achievement and progress on the 2017-18 School Progress Report (SPR).[1] Schools across the city demonstrated continued overall growth. Congratulations to all Neubauer Fellows and Philadelphia principals who drove significant change and results for students!

Neubauer Fellows received consistent recognition during the SPR awards ceremony:
Neubauer Fellows lead four of the five top schools in the city (schools that achieved the highest Overall score)
12 additional schools led by Neubauer Fellows received top honors for increased Overall score and/or moving up two tiers in the rating system
Feltonville School of Arts and Sciences (led by 2016 Fellow John Piniat) moved up two tiers by increasing its Overall score by 37% over the past three years (2015-16 to 2017-18)
Middle Years Alternative (led by 2017 Fellow Shakae Dupre-Campbell) and Mastery Charter at Gratz Middle School (led by 2018 Fellow Raymond Fields, pictured) increased their Overall scores by 39% and 28% respectively over the past three years
The following schools and Neubauer Fellows were honored for their 2017-18 School Progress Reports:
Bayard Taylor Elementary (David Laver, 2018 Fellow)
Boys' Latin of Philadelphia Charter School (Noah Tennant, 2016 Fellow)
Bregy School (Shakeera Warthen, 2017 Fellow)
Central High School* (Tim McKenna, 2015 Fellow)
Chester Arthur School (Kim Newman, 2016 Fellow)
Comly Elementary (Kate Sylvester, 2017 Fellow)
Feltonville Arts and Sciences (John Piniat, 2016 Fellow)
G.W. Carver Engineering and Science Middle Grades* (Ted Domers, 2015 Fellow)
Greenberg Elementary* (Gina Hubbard, 2015 Fellow)
Mastery Charter at Cleveland (Letisha Laws, 2018 Fellow)
Mastery Charter at Gratz Middle School (Raymond Fields, 2018 Fellow)
Mastery Charter at Harrity (Stuart Warshwer, 2017 Fellow)
Middle Years Alternative School (Shakae Dupre-Campbell, 2017 Fellow)
Overbrook Educational Center (Meredith Foote, 2018 Fellow)
Penn Alexander School* (Michael Farrell, 2016 Fellow)
Prince Hall Elementary (Donna Ragsdale, 2018 Fellow)
*Top Five school
Read more about this story, including insights from Neubauer Fellows Shakae Dupre-Campbell (2017 Fellow), Stephanie Andrewlevich (2017 Fellow), and Joshua Levinson (2018 Fellow) here.
[1] The School Progress Report (SPR) measures district and charter schools on multiple dimensions: overall, academic achievement, academic progress, school climate and safety, and college and career readiness (in high schools).  Schools earn scores between 0-100% and are assigned to one of four tiers: Intervene (0-24%), Watch (25-49%), Reinforce (50-74%), and Model (75-100%).