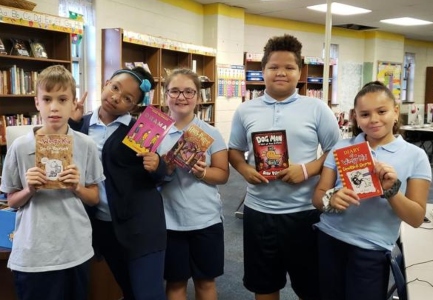 14 Mar

Building a Foundation for Success at Hackett Elementary

At Horatio B. Hackett Elementary School community engagement, physical and mental safety and high academic expectations for every student are some of the elements that Todd Kimmel (2019 Neubauer Fellow) and his staff are focused on for their 350 students.  Kimmel says, "We want them to build that foundation so that when they leave here, they feel prepared to continue their success."  

Hackett students have recently shown growth in literacy, continuing growth reflected in the School Progress Report (SPR) since 2017.  Students participate in daily classroom community meetings, the Book Trust program; supporting students to build at-home libraries, the Future Ready program; allowing students to explore career paths, and an impressive variety of extra curricular programming.  The school library renovation, supported by a matching grant from the Neubauer Family Foundation, is a great example of Hackett's focus on literacy, community engagement and creating inviting spaces for students to engage with.         

Read more from Kimmel and his team here.